Five-Legged Table
I love the rustic look of the driftwood that I rip into planks and have made a number of useful pieces, many that my wife will NOT part with, bless her heart.
Firewood rack
I knew I'd have to build it to withstand a beating, so I used industrial-sized lag screws to hold it together. I think you could throw it across the yard a dozen times and it wouldn't come apart.
Three-legged table
Currently it holds two orchid plants in our breakfast room.
Driftwood bench
Very sturdy, and handy when we have adult beverages with friends around our backyard fire pit.
Fairy table
I ripped up a nondescript stick and got inspired to build this little table, which is remarkably steady as fragile as it looks. Sometimes Teri places a plant on it, sometimes a piece by our friend, Louisville artist Jacque Parsley (in another photo).
Reclaimed Barn Wood
No, I didn't find this wood washed up on a riverbank. One day Teri decided that the dining room set we bought at Ashley Furniture was 1) too small, and 2) looked entirely too much like we bought it at Ashley Furniture. She cocked an eyebrow at me and suggested that I could do better. More of the table story under another photo. Re: the sign: I grew up on the Mississippi Gulf Coast, where Barq's originated in Biloxi in 1898. I rescued that gorgeously aged sign from a barn back in 1972.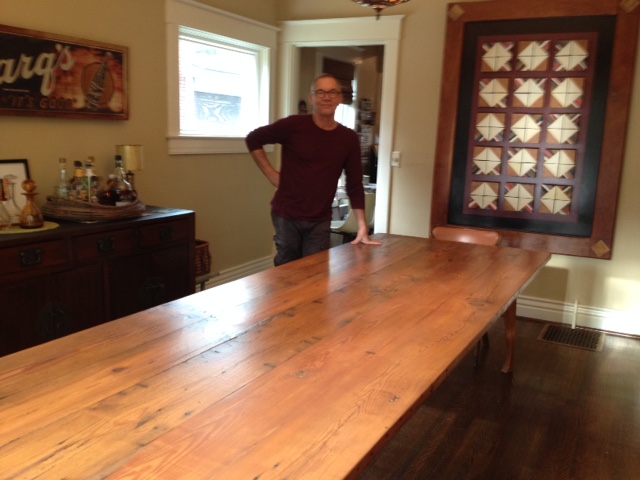 The 10-foot, 6" behemoth is made of five 3"x10" rafters from a 200-year-old barn in Madison, Indiana, that I bought from a dealer here in Louisville (I made the legs of new fir I aged to match).
I had to plane the big planks down considerably, and it was quite an effort--three months off and on (I made a 3-minute "making of" video you can see here:
The result is pretty impressive, if I do say so myself. Everybody who sees it loves it, and Teri couldn't be happier. She surrounded it with a fun collection of non-matching retro chairs, and we get raves at dinner parties.